Purpose
Organisation
Membership
Awards and Grants
Publications
History
News
Meeting calendar
Web Links
News

updated continuously; for suggestions please send an

e-mail


9th MID-EUROPEAN CLAY CONFERENCE 2018
Registration and abstract submission for the 9th Mid-European Clay Conference (MECC2018) that will be held in Zagreb, Croatia between 17th and 21st September 2018 is now open on the conference website.


REYNOLDS-CUP 2018
The 9th biennial Reynolds Cup competition for quantitative mineral analysis is now open. You can register your interest in participating in the contest by sending an email to Rieko Adriaens. The competition is open to anyone interested in quantitative mineral analysis, with particular emphasis on clay mineralogy. Information about the competition including guidelines and previous winners can be found here. The competition is free for all to enter, however, those that are not members of the CMS are encouraged (but not obliged) to become members (see).
A total of approximately 90 sets of samples will be available for distribution. Each set comprises three samples of approximately 3-4 g with mineral mixtures commonly found in clay bearing rocks. All sets of samples will be distributed in the order of registration. Samples are expected to be shipped at the latest at January 22nd 2018 with the deadline for submission of results by April 16th 2018. The top three contestants with the most accurate results will be announced at the 55th Annual Meeting of the Clay Minerals Society (June 11-14, 2018, Urbana-Champaign, Illinois). Only the names of the top three contestants will be published. The names of the other participants will remain strictly confidential.
Because of the popularity of the Reynolds Cup and the enormous amount of work put into its preparation, potential participants are strongly encouraged to plan ahead and only request samples if they are sure they can complete the analysis and return results to the organizers by the due date. Those who request samples and do not send in results or fail to return the samples unopened WELL BEFORE the due date will not be eligible to participate in future Reynolds Cups. A waiting list will be kept to offer returned samples to other potential participants.
To ensure an even wider exposure, we encourage you to forward this announcement to your national mailing lists and mineralogy associations, colleagues and friends who might be interested in participating.
We look forward to your participation!
Rieko Adriaens and Gilles Mertens

AIPEA
The AIPEA General Assembly at the ICC2017 in Granada has elected our long-standing treasurer, Reiner Dohrmann (LBEG Hanover), as the new President 2017-2021. Congratulations and lots of success in the upcoming tasks.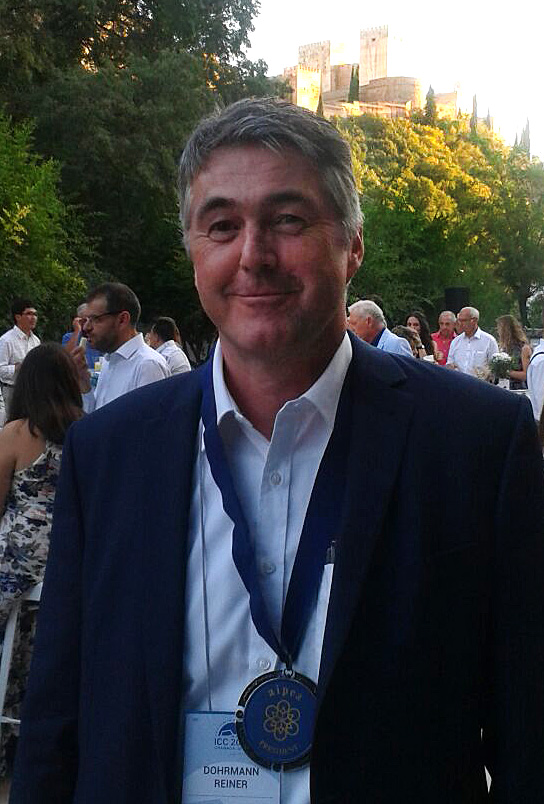 4. Autumn School: Moisture measurement in porous mineral materials, 18th - 19th Sep 2017, Karlsruhe/D.
The goal of the autumn school is to convey knowledge about water binding and moisture measurement in soils, clays and building materials. The autumn school is focused on the aims of young researchers (doctoral students and postdocs), but is also open to advanced scientists and experienced practitioners. Number of participants is restricted to 15. Deadline for registration is 31st May 2017.

7th DTTG Workshop 2017




This year the DTTG workshop entitled "Qualitative and Quantitative Analysis of Clays and Clay Minerals" was held at the University of Greifswald between Feburary 20th - 24th (2017). The meeting was very much international, with 15 attendees from Germany, Belgium, Croatia, Iraq, Poland, Tunisia, and the USA.The workshop maintained its traditional structure with a strong emphasis on XRD identification and quantification methods, as well as covering the broad range of clay mineral characterization techniques. One day was also devoted to electron microscopy techniques (SEM, FIB-SEM, TEM), as the main specialization of the host group. The team of 12 lecturers are looking forward to repeating event in Greifswald once again in 2019.
For the organizing team Georg Grathoff and Laurence Warr.



Participants and lecturers of the 7th DTTG Workshop 2017 in Greifswald